Im looking for a Systema PTW, preferably a MAX with mags, batts, etc. I would like it to also be 2008+ or just slightly under. Tackleberry mods are nice too. I really would prefer a M4A1, but I will take a CQB-R as well.
The reason I am wanting to trade it for a PTW, is because it is not feasible for me to get airtanks filled. I have to drive 40 minutes one directions to get to the closest scuba shop. They only charge 3 dollars to fill it up, but when I am driving a car that gets 15 miles to the gallon it is just not worth it for me.
LOCATION: Spartanburg, SC
PAYMENT PREFERENCE: Paypal
ITEM(S): Polarstar set up
PRICE(S): I would prefer to trade for a PTW but if I had to put a price on this it would be $1200
DESCRIPTION(S): Parts list:
Lower:
King Arms Colt/Raccoon City police body
Magpul UBR in FDE (buffertube is waterproof for the P*'s FCU)
Magpul MIAD in FDE
Magpul enhanced triggerguard in black
King Arms QD sling mounts x2
Has had the zero trigger mod done, less than 1mm of pull and has no slack when the safety is on.
Upper #1:
King Arms upper
VFC KAC URX 2 rail system
King Arms 12.5 in barrel
RS Magpul ladder rail covers in FDE
DBs custom 6.01 barrel, was r-hopped by HS5 himself
Lonex 70D bucking RTV siliconed to the barrel
TM KAC style 300m BUIS
Magpul AFG in FDE (original style and not sure if PTS or not, I picked it up at a gun show)
Upper #2:
King Arms upper
King Arms MK12 Mod 1 conversion kit
King Arms OPS suppressor for MK12 flashhider
Prowin Hop up chamber
Orga 6.23 barrel flat hopped
Prommy purple bucking
Firefly namuza
RS Magpul ladder covers black x3 (1 long, 2 short)
RS KAC 11 rib rail covers x1
Mags:
6x KWA 120rns PMAGS, these will feed over 50 rps
IDK how many other MAG brand 120rnd I have laying around that I can throw in if you want
Optics:
King Arms Aimpoint comp M2 (I think that is the model)
I have a scope for the MK12 upper that I can include, as my Leupold M3 is gonna go on my real MK12 as soon as I get it back from Larue
Power source:
V2 Revision 1.5 fusion engine wired to JST. This one has the version 1.5 style FCU. Which means that it does not have lipo protection but the included lipo will power it for over 20,000 so as long as it is charged after every game and is not left plugged in it will be fine.
7.4 850 mah lipo wired to JST
air delivery:
90ci 4500 psi NInja tank with Ninja SLP regulator. This tank has 4 years left on the 5 year hydro
SLP line with a ARX20 regulator.
3x nozzles (1x blue, 1x silver, 1x custom green. The green has been bored out to equal a red+ nozzle. VERY POWERFUL. I reached 600 fps at 80 psi with this nozzle.)
PICTURE(S): yes a lot, I like to see every angle of something before I buy it and my pictures show it
*If there are too many photos let me know and I will delete some*
PART OUT?: No thanks
ACCEPT/OFFER TRADE(S)?: Yes
The reason I went with a SLP set up is so I can reliably run the fusion engine at 50 psi to conserve air. I have gotten over 8,000 shots off of one tank using the silver nozzle at 50psi and still was at 380 fps. Another plus to the 50 psi is when you are running a suppressor, the gun is so quite the actual solenoids firing are louder than the muzzle report.
I have run this the other way too, cranked it to 120 psi and installed a noveske amplifier with a borrowed green nozzle at 45 rps. It was so loud that my peltor's were canceling out the noise inside. ( I was playing CQB). I had people come up to me after the game and tell me that is was the loudest gun they had ever heard in airsoft. I actually gave my squadmates headaches, well at least the two not wearing peltors
.
This fusion engine was installed correctly and the nozzles are centered in the hop chamber and they do not rub on each other. The FCU is stored in the buffer tube which is water proof up to submerging completely under the water. The air hose has been covered by shrink wrap to keep the threads in the pistol grip from damaging it.
Picture time yay!: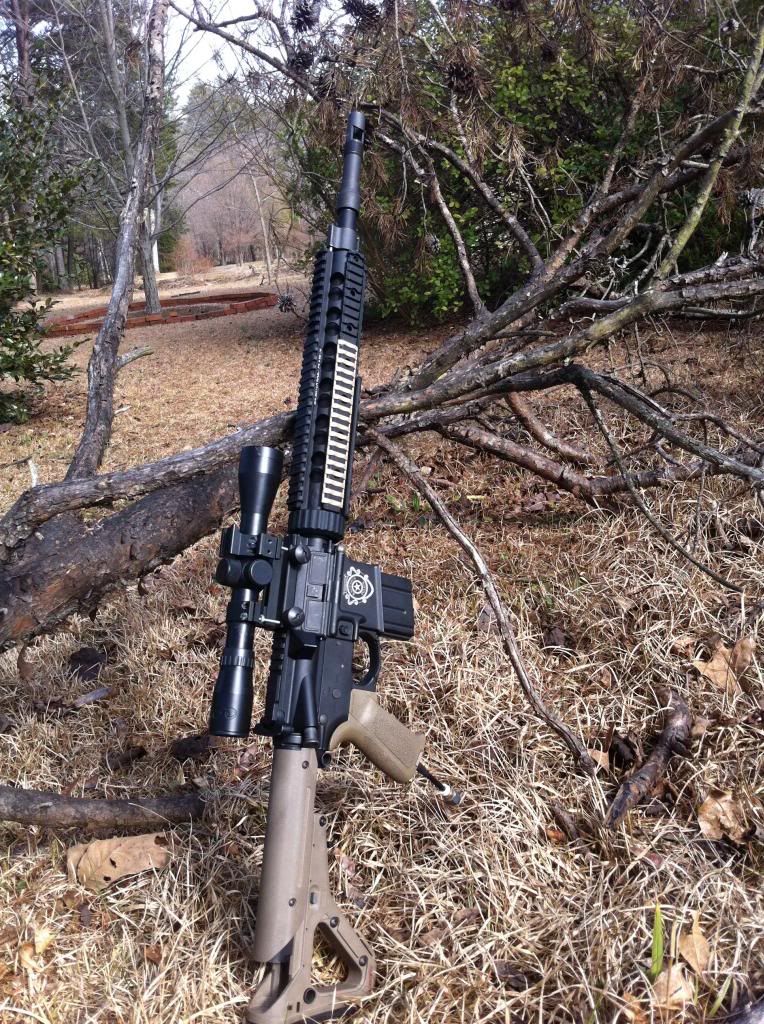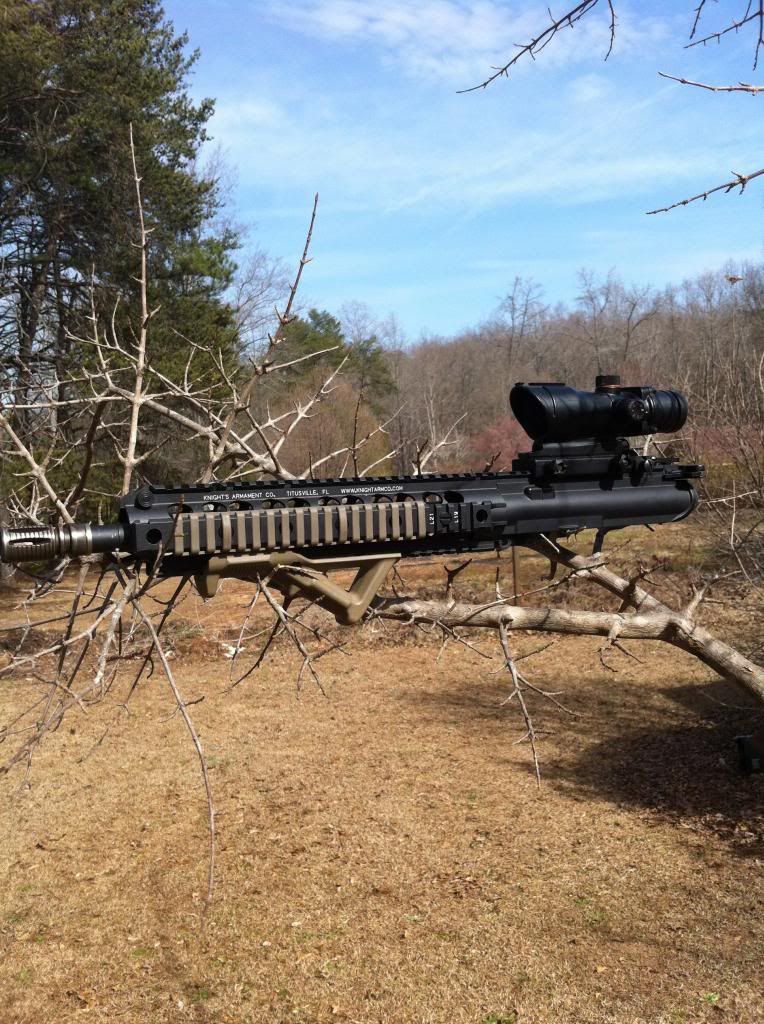 Thank you for your time,
Marshall