KS P90TR with Upgrades - $175 Shipped
Basically in New condition, only has a couple hundred rounds through it. I'm selling it because I need car parts otherwise I would be keeping it.
Upgrades
Madbull Ultimate Tightbore 6.01mm
Element 45 Hop-Up Bucking
Homemade Concave Spacer
Re-Shimmed
New O-Ring (Fixed Compression)
Custom MOSFET and 16AWG Rewire w/ Deans Connectors
Sling Adapter Loop
In The Box
KS P90TR
70RD Magazine
9.6v 1200mah Mini Battery (Deans)
Wall Charger (Deans)
Ram Rod
Owners Manual
Additional Information
Gun shoots great, very accurate with the 6.01 tightbore in it. I was running it with an 11.1v 2000mah Li-Po (I can throw it in for $15 extra) which gave it a nice ROF. Also note there was some filing to get this battery to fit in the stock. The gun does not come with a flash hider because it was removed so I could use a silencer (not included either) and it was broken in the removal process (glued on).
New SCR M4 - $125 Shipped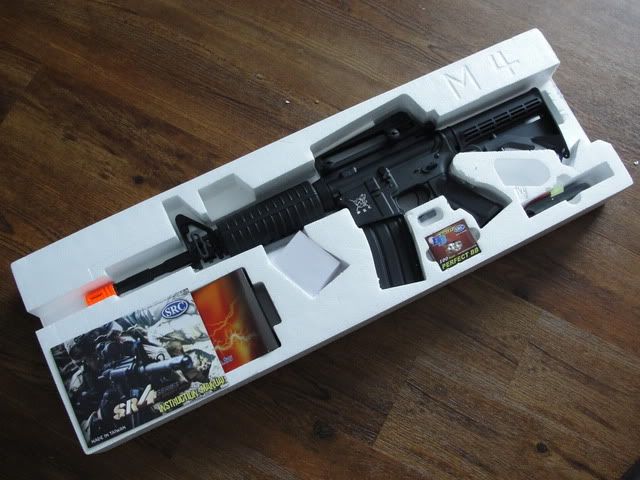 I received this in an AirsoftGI mystery box. I've shot a MidCap through it to make sure everything is functioning correctly. Otherwise the gun has not been used and is in new condition. Goes for $170 On AirsoftGI.
In The Box
SRC SR4
300RD High-Cap Magazine
8.4v 1200mah Mini Battery
Wall Charger
Ram Rod
Front Site Adjustment Tool
Owners Manual
V2 Gearbox
(Complete or will part out(send me an offer the part(s) you want)) - $90
Parts List
Modify Torus Shell (Includes Tappet Plate, Screws, and Torx Tool) - 1,500rds
Modify Cylinder Set (Piston Head a small chip out it, can provide pictures)- 60,000rds
Modify Ball Bearing Metal Spring Guide - 60,000rds
Guarder SP110 - 60,000rds
SHS Full Metal Tooth Piston (Plastic Body) - 1,500rds
King Arms M4 Trigger - 1,500rds
Element Trigger Assembly - 1,500rds
SHS Sector Chip - 1,500rds
Information
This is my custom box I've been running in my M4. I recently blew a bearing and instead of fixing it I'm just going to sell the parts because I am set on buying a Fusion Engine when they come out (AEG's can't compete with it IMO). Anyways, I had the box shooting in the upper 30's rps on 13.2 LiFe-Po while putting out 410fps on a well broken in SP110. It was a very consistent performer. Gears and bearing/bushings aren't included if you purchase complete. I can send you pictures if needed, or of the individual parts if you wish.
V2/V3 Parts
I have a bunch of spare V2 or V3 parts laying around if you need anything just PM me and I'll see if I have it. I also have a bunch of old stock barrels in various lengths.
1. New Magpul PTS MOE GBB Grip - $20
2. King Arms OD M4 Grip - $10 (SOLD)
3. Mp5 Claw Mount - $5
4. Magazine Clamp - $5
5. G&P M120 High Stripped Motor (Stripped Pinion) - $15 (SOLD)
6. M4 Rail Covers - $5
7. M4 Front Sight - $5
8. Dream Army Ultra Torque (
Not pictured
, only 1,500rds on it) $18
9. 11.1v 2000mah Li-Po (
Not Pictured
, about the size of a 9.6v mini) $15
1. Flyye CB Double Mag Pouch - $15 (SOLD)
2. Flyye CB Single Mag Pouch (2 Available) - $10 Each (SOLD)
3. Flyye CB Grenade Pouch - $10
4. Flyye CB Utility Pouch - $15
5. Flyye CB First Aid Pouch - $15
All FLyye Pouches are New and have never been fielded.
1. Molle Woodland M4 Pouch (2 Available) - $5 Each
2. New Velcro American Flag Pouch - $3
Payment Options:
PayPal Only (May be open to trades for WW kayak/Gear and other airsoft items)
Shipping:
USPS Priority Mail $5 Flat Rate Box or $10 FLat Rate Box for larger orders
If you have any questions or wish to purchase an item please PM me or send me an email at
cameronloosli@gmail.com
. Thanks.