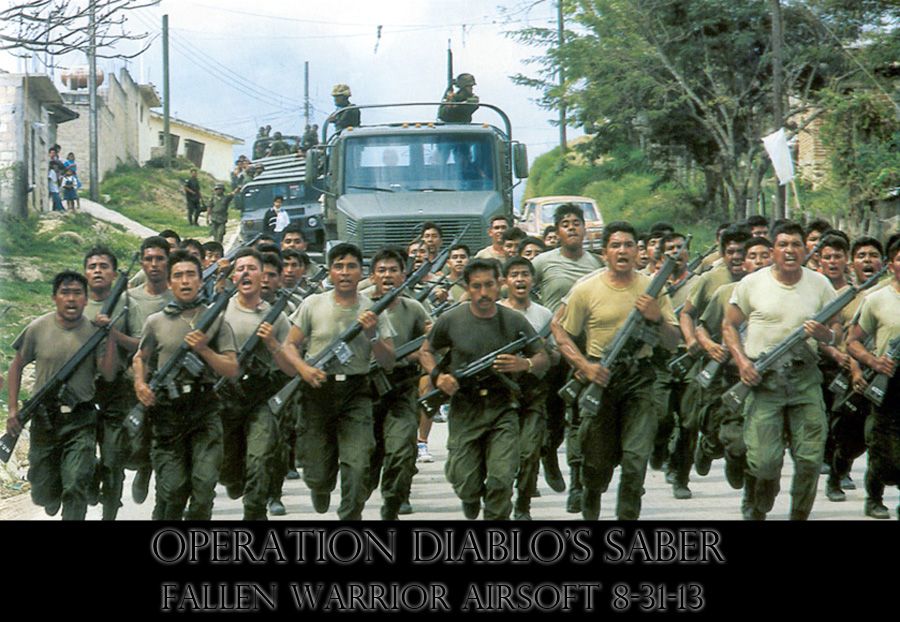 OPERATION DIABLO'S SABER OPORD
Fallen Warrior Airsoft
1. SITUATION:
A:
Drug Lords from South America have sent a small cell of their Mercenaries north to set up production labs due to the closure of several boarder crossings. To fund the activity the Mercs are to Kidnap and hold identified college students or family members of several different political and Diplomatic Families for Ransom. The Mercenaries have developed several weapons caches which are protected by some small villages they have developed for sustainment. There are mole's that have infiltrated the local law enforcement and local population and are working among the local civilian and government officials.
B:
Terrain: The areas that the Mercenaries prefer are hills and High ground with rolling valleys with small creeks for sources of water. There are two small villages, south of the drop zone that is heavily inhibited by the mercs.
Forces
Enemy Forces: OPFOR uniform Green or Black BDU's with a mix of blue jeans and t-shirts are allowed.
(Contractor uniform) 20 positions available (individuals not with a team will be placed into the OPFOR Role). AK-47 Type weapons preferred.
Friendly Forces
Teams ONLY (5 or More players will make up teams).
HQ Organic Observer Controllers will be imbedded with each team or Platoon CO. Tan Uniform
Recon Team 1 6 positions
Recon Team 2 6 positions (Need to be familiar with digital camera and taking photos)
Recon Team 3 6 positions
Sniper Team 1 4 positions
Sniper Team 2 4 positions (Sniper, Spotter, 2 security personnel)
Sniper Team 3 4 positions
1st Platoon 20 plus positions
2nd Platoon 20 plus positions SL for each 10, Commanders will be chosen by HQ's
3rd Platoon 20 plus positions
QRF 1, 2, 3 ( 30 positions 3 Squad leaders included).
MED EVAC:
6 man team with SL
2. MISSION:
Operation Diablo's Saber is a MILSIM Force on Force with multiple objectives that will be performed during day and night conducted DTG?
Recon elements:
will be responsible for verifying locations of OPFOR and possible targets of opportunity as well as assist in search and rescue missions.
Sniper teams:
will be responsible for over watch on objectives and search and destroy missions with Recon teams, as well as direct Target elimination missions.
The Platoons:
will be responsible for raid, ambush and High value target retrieval as well as Direct action against hostility from the OPFOR.
Quick reaction:
Force will be responsible for security of any element upon insertion and extraction procedures as well as reinforcing an element that requires back up including Med Evac procedures.
Med Evac:
will be exactly that, they will react to any and all request for Medevac from elements at all times when directed by HQ.
OPFOR:
will be responsible for any and all resistance and defensive operations required by OPFOR Command.
3. EXECUTION:
a. Intent:
Operation Diablo's Saber is designed to provide a "realistic" military experience through a continuous tactical simulation. Safety and training are the highest priorities in replicating combat scenarios. Our ultimate goal is to provide Airsofters with a positive experience through simulation of combat and strategy through continuous tactical simulations. We will have Organic Observer Controllers (as liaisons) and Qualified Medical personnel on staff as well as HQ for command and control. Night vision will be authorized and will be used by event Staff for night operations starting at 6:00 pm. Laser pointers will be authorized for fire missions and target acquisitions.
b.
Concept of the Operation:
1)
Two opposing factions within the community seek to gain dominance over the population and secure area's and designated personnel. Destroy all objectives by call for fire and demo packages. OPFOR will hold in the villages and Blue FOR will be assaulting on foot and vehicle.
2)
On Saturday from 0900 – 1000 units move into their command posts located in the AA. Command posts are off limits to opposing forces. Command posts will be used as "respawn" areas to regenerate and re-mission squad sized units. Command posts are the entry points for all resupply activities. Units will call for extraction in order to move PLT/Squad/Team to AA.
3)
On Saturday at 0930 OPFOR will move into the MILSIM.
4)
Operation Diablo's Saber STARTEX at 0930 Saturday. Load all MAGS and FRAGS prior to registration and sign in. Insertion for 1st Platoon recon at 1030, 2nd PLT recon 1115,
5)
Buildings will be assigned point values. Each team must develop a tactical strategy to acquire buildings and hold them until the end of the game. High value objectives – such as simulated dignitaries and Arms Cache, drug labs – will also be designated and assigned point values. High value objectives must be secured until extraction. High value objectives are allowed to be moved to the command post and turned into HQ. Points will be awarded at intervals during the game - SNAPSHOTS - for NAI's (Named areas of interest) and designated items. At the end of the game scores will be tallied and a winner determined.
6)
The "MEDIC RULE" will be used to maintain unit integrity, provide a fluid tactical scenario and reinforce squad tactical fire and maneuver. Squads will remain together throughout the MILSIM.
a)
Each squad will have two medics designated, one per fire team. Medic role may be transferred from one "LIVE" player to another "LIVE" player at the discretion of the Squad Leader.
b)
When a player is "hit", a medic can regenerate the "wounded" player after two minutes. If a medic is "hit", another medic can regenerate the "wounded" medic after one minute. A player may NOT regenerate another player.
c)
A medic can only regenerate one person at a time, therefore regeneration times become sequential – for example, it would take one medic 6 minutes to regenerate 3 players (2 minutes each).
d)
Each medic will be issued eight (8) bandages for use within the squad – total bandages per squad is sixteen (16). Bandages must be tied to the wounded player's left arm. When all bandages have been used the squad must move to the Command Post for resupply. There is no limit on the number of times a squad may be resupplied with bandages. This is a MANDATORY WITHDRAWAL.
e)
If an entire squad is "wounded", they must move as a squad to their respective Command Post to be regenerated after 5 minutes and then reintegrated. This is a MANDATORY WITHDRAWAL.
F)
Squad leaders must report Readiness Condition (REDCON) to their Command Post at required intervals as determined by the Commander, upon request from the Commander or when the squad reaches the following thresholds. This is important information for your Commander and replicates actual military reporting requirements, although the thresholds have been modified for game purposes. When reporting, Squad Leaders must identify the reason their squad is at a certain REDCON level – personnel, weapons, ammunition or water – and your ability to fix the problem. This allows the Commander to determine the correct course of action for that squad – resupply, reinforce relief in place or withdrawal. In some cases it may be advantageous to withdraw a unit to the CP for 5 minutes than to wait the sequential time to regenerate in place.
*** REDCON 1 ***
Squad is 100% mission capable on personnel, weapons, ammunition and water. (11 squad members are ready)
*** REDCON 2 ***
Squad is 75% mission capable on personnel, weapons, ammunition or water. (10-8 squad members are ready)
*** REDCON 3 ***
Squad is 50% mission capable on personnel, weapons, ammunition or water. (7-5 squad members are ready)
*** REDCON 4 ***
Squad is 25% mission capable on personnel, weapons, ammunition or water. (4-1 squad members are ready) MANDATORY WITHDRAWAL for personnel as directed by the Commander.
*** REDCON 5 ***
Squad is 0% mission capable on personnel, weapons, ammunition or water. (0 squad members are ready) If a squad suffers 100% casualties they must disengage from the area they were defending or attacking with red flag on their head and move to their respective Command Post for regeneration and remission. MANDATORY WITHDRAWAL for personnel, weapons, ammunition or water.
g)
A red flag or red CHEMLITE designates wounded or withdrawing players.
h)
Individual movement during MILSIM OPS is NOT authorized – squads must remain together and move as directed by the Commander or under MANDATORY WITHDRAWAL conditions.
I)
Opposing forces are allowed to capture each other -POWs. You will do so by shooting or bang bang and healing the player with a medic. Then the player is your POW and can be interrogated for intel.
7)
Physical contact between participants is prohibited.
8)
Role players are planned for this operation.
9)
A cease fire will be called shortly. Fragmentation Orders issued, each team will hold positions and rest for short term planning with OC's. Special missions will be conducted during this period. These "special missions" will be squad sized reconnaissance and retrieval operations and Demo..
10)
Operation Diablo's Saber will ENDEX at 1100 hrs Sunday.
Saturday 0900– 0915 (Team Leaders and above) Mission/Safety Briefing & Operations Train-the-Trainer Class on Demo and call for fire.
- 0930 OPFOR Enters Field
- 1000 recon teams/ snipers enter MILSIM
- 1030 Platoons / enter MILSIM
- All other participants continue Troop Leading Procedures
Saturday 1330-1400 Lunch (optional meal plan)
Saturday 1500 – 1800 HVT retrieval, Demo OPS.
Saturday 1800 – 1900 prep for night raid OPS
Saturday 1900 - 2300 Night OPS
Saturday 2300 – ENDEX
[size=medium][align=center]
*** Important information regarding directions using google maps!***
[/align][/size]
Google is giving the wrong directions to the field. Please use the links below for directions!!!
Columbus
http://goo.gl/maps/9rDRU
Cincinnati
http://goo.gl/maps/wKMw5
Portsmouth
http://goo.gl/maps/w83mH
Directions from home
http://goo.gl/maps/KclEK