For sale is some of my old and unused gear. Prices are flexible and I will work out deals to benefit you if you make bundles. If you need additional information or pictures, please PM me. I will not ship purchases less than $40 and buyer will pay actual shipping costs. You can pick up at my place or I can meet in Hilliard or AirsoftSMITH. I need this stuff gone so prices are low.
May take trades for M1956 gear or camping supplies.
DO NOT POST IN THIS THREAD. PM ME WITH INQUIRIES
Help send me to the police academy and equip yourself for this coming airsoft season!
Up first is a set of Woodland MARPAT. Jacket and Pants are size Medium Regular and the Boonie is a size large. These I real deal fatigues which can be indicated by the tag and the USMC logo hidden throughout the pattern
$50
for everything
Next up are various pieces of ALICE gear. Canteen, canteen pouch, and ammo pouches are all dated from the 80s.
Canteen pouch w/ canteen
$15
Triple AR mag pouches
$5 each or $15 for all
First aid/compass pouch
$3
"H" Harness
$10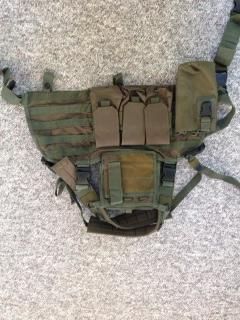 OD copy of an Eagle Ind. Rhodesian Recon Vest. Comes with 3 single AR mag pouches, 1 radio pouch/holster, and 1 admin/tool pouch.
$20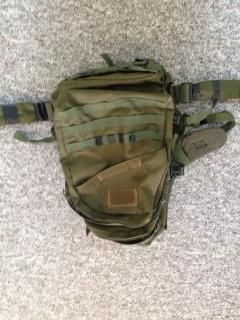 OD 3 day assault bag. Plenty of room. One zipper has broken but has been temporarily repaired and works fine. Has a small hole in the secondary compartment which leads into the main compartment.
$15
OD Condor knee pads. Elastic is a been torn but they still wrap up fine
$10
Classic Army M16A1,A2, AUG barrel. May fit an M16A3 or 4 but Im not sure
$10
Rear sling mount for an AR
$3
Various RIS rails (shorter rail is from an MP7)
$3 each
Arena Flakjak goggles in Tan. Comes with soft case and smoke lens. Top false airvents have been removed to improve airflow. I still have them if you need them. Conforms to event required ANSI ratings
$10
USMC uniform belt in tan
$3
Or free with purchase of MARPAT listed above
BLACKHAWK! Size 8 OWB holster. Says it will fit small to medium sized handguns
$5
Black AR mag pouch
$5
Black pistol mag/tool pouch
$5
Buy both pouches and get them for
$7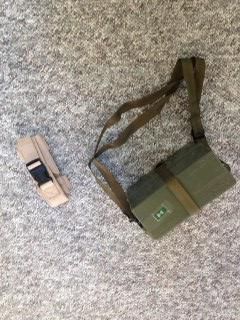 3 Color desert pistol mag/tool pouch. Mounts sideways, not vertically
$5
Plastic Army Issue Chemical Agent Detector kit box (Box only) Interesting prop
$3
Thats all folks. Again, willing to make bundles or come down on prices