Been in the back of my closet for a while:
AGM GBB M4 RIS. SOLD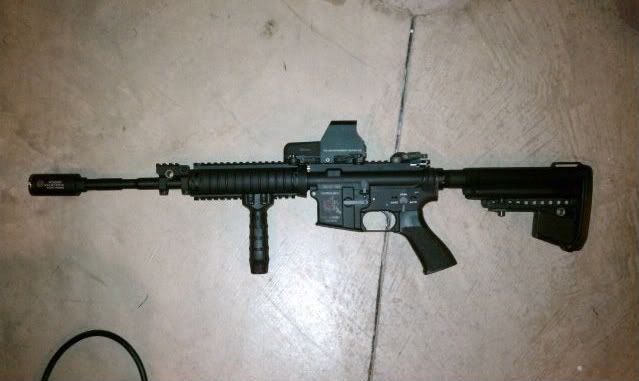 external: This thing has full trades, as you can see. Custom engraved SR-16 M4 and KAC sheild trades on one side and custom VLTOR sword engraded on the other. RIS has KAC Vero Beach and SR-16 M4 RIS trades. Even the RIS gas block and modstock have the VLTOR trades. has a REAL STEEL tango down grip, and replica tango down foregrip which is of fair quality, but i rigged it to fit a little more snugly. fully traded noveske KX3 flash hider. The only negative thing about this gun is that the glue on the original flash hider stripped some of the threading when i took it off, so the flash hider fits loose, but hasn't fallen off on me.
internal: has all the little DIY improvement mods (improved hop, locks back every time, etc) except for a spring loaded bolt stop. has an aluminum recoil buffer for increased recoil.
probably 1000 rounds through it. $500 in it, not including EOTech replica (full trades), or KAC style rear BUIS (fully adjustable), which i want to keep, unless the price is right.
also comes with magazine of course.
SOLD $150 + ship - worth its weight in parts/accessories.
Next up is My TM Mk.23 full set. comes with everything including LAM and case, plus Mk.23 Holster and 2 STTi mags for use with green gas/propane. FULL TRADES. Like new. The only defect is a small dent from a BB on the front of the suppressor. If you've never heard one of these shoot, they are basically silent from about 20'. the loudest sound is the hammer falling. You'll fall in love like i did.
$150 + ship
SOLD
Hearing any (un)reasonable offers. NO TRADES.