Prices
Listed with items and do not include shipping. All prices are negotiable, please send an offer.
Contact
Send a PM
Shipping
Priority Mail Flat Rate Boxes (Price Depends on Item), Local pickup available (Amherst area)
Other Info
Pictures are available for items on request. Parting out of items may be considered.
Custom M4 Upper $190
- G&P Limited Edition Magpul/Vltor Body (Upper Only)
- King Arms Type B Charging Handle
- Noveske 7.25" RIS System
- MagPul XTM Rail Covers (2)
- G&P Vltor VST
- Element QD SCAR Silencer (110mm)
- A&K CQB-R 1-Piece Outer Barrel
Upper Only For Sale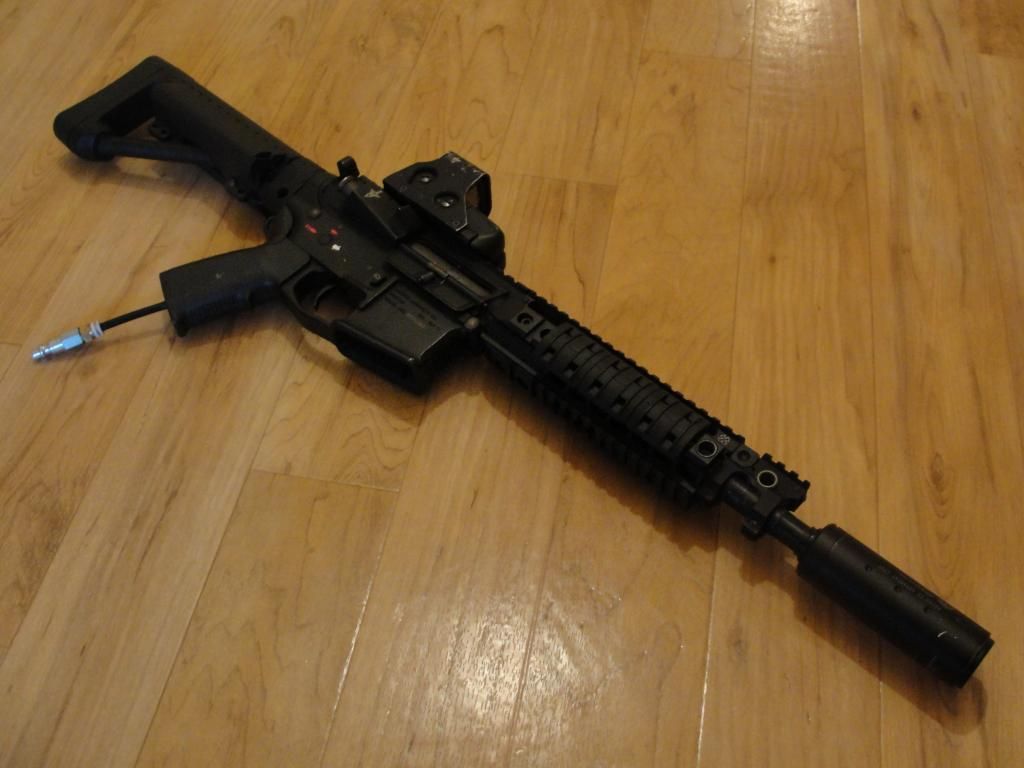 M4 Barrel/Hop-up Assembly $35
G&P Hop-Up System
Madbull 363mm 6.01 Tightbore
Custom Nub and Bucking (Similar to G-Hop)
UTG L96 $125
Angel SP-170
Angel Piston Bucking
Angel L96 Aluminum Piston
Angel Spring Guide
Angel Trigger Sears (Not Installed due to Hot Glue Mod)
UFC Chronograph $30
Basically new, comes with original packaging, instructions, and charger.
Random Internals Package $30
Mostly V2 and V3 Parts from Clones. Some upgraded parts mixed in.
M4 Externals Package $40
Different M4 Externals, Includes a new Big Dragon Lower with Parts
Random Externals/Gear/Misc Items Package $20
AK Parts, NBB Parts, some gear, and other Misc Parts
Flyye BDU Belt $5
UTG Mini 4x32 Scope $15
(2) Safariland M4 Single Mag Molle Pouch (Old style, Woodland) $5
UTG Bipod $10
King Arms "M4 Mag" Speedloader (470rds) $5
UTG Ak-47 Beta $30
Many Mods and Fixes, Needs some help, Use for parts or experimenting. Comes with 2 High Caps.
UTG "Master" Sniper $30
DIY Mods Performed, otherwise stock. Cracked Stocked, 2 mags
(2) Large AirsoftGI T-Shirts $3
Aimpoint T-1 Micro Red-dot $50
Never Fielded. Comes with QD high and low profile mounts.
Dream Army High Torque Motor (Long) $15
Same as the Element Motor. Great motor, only a couple thousand rounds on it.
SHS M4 Metal Hop-up System $8
Vertical Fore-Grip $5
Never Used