Well, it seems like its time for me to sell my beloved SL8. It doesn't get much action, I've only taken it to one game. Being 16 with no job, I have to sell old things to get shiny new things. She has a few issues, which are mentioned later. Anyway, onto the sale.
Well, almost.
- PM me with offers, please.
- Don't lowball. The price is OBO, but be reasonable.
- I prefer FTF, but will ship. PayPal is the only way I will accept money besides cash.
- You ship first for a trade.
Speaking of trades... Here's what I'm interested in.
- Classic Army G3 + Mids. Will trade straight up for one.
- G&G or CA G3 metal body + hardware + cash.
- JG G3 + Mids + Cash.
- CA33/53 Midcaps. Preferably ~130 rounds.
- G3/CA33 Front end. Don't need handguard, do need all the hardware and inner barrel.
- G36K RAS Unit, G36K Carry Handle, G36K Flash Hider. Will entertain offers for an AG36 built-in grenade launcher.
- WE/TM G17. Would love one with a tan frame and black slide. Functional or non-functional, doesn't matter to me.
Anyway, you probably didn't read most of that. Here's whats important.
Das SL8.
Well, as you probably know, the CA SL8 went out of production a number of years ago. So, this is an old gun. However, most of the original parts have been replaced.
As mentioned earlier, there are a few issues. First, she likes to fire in bursts of two or three. This is because of the low-power spring and torquey motor. You'd need a stronger spring (M120, I'd suggest) and probably a new cutoff lever spring to fix this.
Second, the lower reciever is cracking in a few places near the trigger. There is a crack near the pin for the mag release, one above the trigger, and one behind it. These are fixed with CA glue (superglue) from the inside, and look fine from the outside. Structurally, they seem sound, but I'd recommend a more permanent fix.
Those are all of the issues. Here's a complete parts list:
- Original CA Upper and Lower. The HK Trades plate somehow made it onto the upper, but the two on the stock are missing.
- Ares Extended Upper Rail, 6-Hole Handguard, and Outer Barrel.
- JG Magwell & Pin
- NC Star 2-6x28 Scope + Mounts
- Rail added to handguard.
- E1 Gearbox (Old one died a while ago), stock E1 internals except:
> SHS Piston (1 metal tooth), Alum. Piston Head, Trigger Contacts
> Prommy M100 Spring
> Modify Metal Spring Guide + Bearings
> VFC Motor (From their AK series, I would guess. Great little motor).
Soldered to wiring harness.
> Random Air Nozzle. Seals better than the stock one.
> Various mods. Sorbo, piston teeth shaved, teflon on the cylinder head,
shims, grease, etc. All done by yours truly.
- New Style JG Hopup Unit. Worked better than the old CA one.
- Systema Bucking.
- SRC 6.03. When Italian saw it, he exclaimed, "Holy crown!" Its a nice barrel.
I can replace with the stock one, if you want.
- Rewired with nice wire and Deans to the rear. Battery compartment was cut
into the stock. Just take off the cheek rest to replace battery. Fits
everything but a large battery.
- Modded to SEMI ONLY buy shaving part of the selector plate.
That's what I remember. Includes everything on the parts list. Will only include a non-functioning, homemade short mag, as I need all of my G36 mags for my G36.
Now, pictures!
The HK33 has a PSG-1 length front end on it. Shown for size comparison.
Here's one of the battery compartment: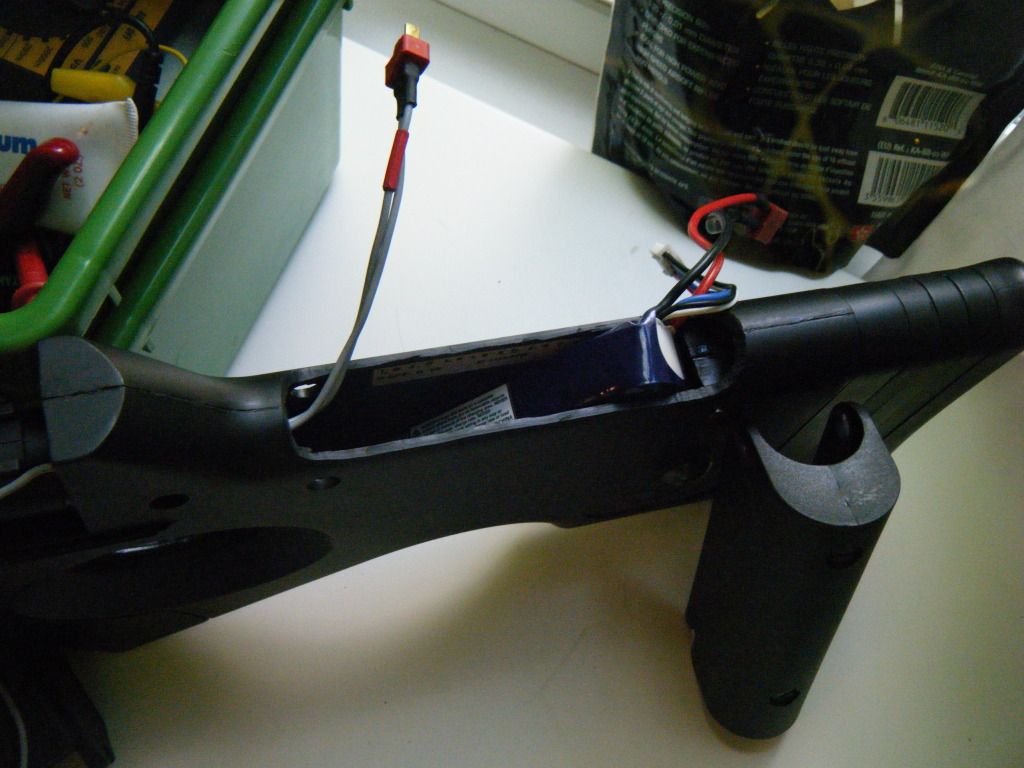 And one of the cracks near the trigger:
The picture makes them look worse than they really are.
I have a few more pictures in my Photobucket album, and my personal album here on AO. Links:
http://www.airsoftohio.com/forums/al...p?albumid=2065
http://s1073.photobucket.com/albums/...cpZZ1QQtppZZ24
For this German beauty, I am starting the price at $225, OBO. Please PM with offers, and check the trades.
Its
SPT!
Already! Don't be afraid to send offers, on the off chance this deal falls through, you could be the next in line.
Thanks for looking!