Replica Oakley Gloves (bought from Ebaybanned)
Posted 02-06-2010 at 11:55 AM by
vietec
Oakley Pilot Gloves (replica)-Full Photo Review
By Vietec
Table of Contents:
-Ordering
-First Impressions
-Appearance/Feel/Build Quality
-Function
-Performance
-Pros & Cons
-The Final Word
Ordering
For a while, I had my eyes on these gloves. Ever since I noticed it listed on ebaybanned's website, I knew that I would have to own them. I knew that I was being drawn in by the fact that the knuckles were hard, but the fact that the knuckles were carbon fiber, and that the gloves were vented only made the deal sweeter. After I sold my beloved CA MP5, I had a great amount of money, but not great enough to order a gun worthy of replacing it, so I bought a bunch of gear. When I bought these gloves, they were on sale for $28.50, as far as I can tell, it still is the same price. These gloves were also available in tan, but for whatever reason, the palms are blank, and the price is about $4 cheaper. There were two available sizes according to ebaybanned: Asian Fit(Medium) and Large. >_> The ordering process for ebaybanned can be a tad difficult your first time. You go through the typical shopping cart, which proceeded to paypal's checkout page. Only catch; however, is that you have to navigate back to ebaybanned's page after paying with paypal. I made the mistake of using my browser's back button, when in reality, I was supposed to click a button somewhere on paypal's website that took me back to the vendor, of course it did not help that the page was mainly in Chinese.
First Impressions:
After a tiring day of school which seemed all too repetitive, I came home and checked my mailbox. To my joy, I saw two huge envelopes. One of the envelopes was from ebaybanned, and I of course had to rip the packaging open. To my astonishment, the gloves were packaged in a clear bag, which bared nothing more than a simple piece of paper, which showed a picture of the gloves, along with its item number. This was bitter sweet, for I'm a fan of great packaging, but the fact that I had less of a delay to see my beloved gloves made it entirely worth it. I quickly admired the carbon fiber, and put the gloves on. To my surprise, the gloves were nice, but the knuckles kind of dug into my hand. I was still pleased, with the knowledge that I'd soon break in the gloves and it would feel 100% comfortable.
Appearance/Feel/Build Quality:
These things look great! From the moment I tore into the packaging, up until even now, I love the looks of these gloves. The stitching on them seemed fine; however, the "O" on the back of my right glove was half way off. I simply superglued it back into place, and everything looked right. They are a bit uncomfortable as previously mentioned, but after breaking them in, they feel absolutely comfortable. The build quality on these things are really great, especially for what I paid for them, and more importantly, what ebaybanned themselves must have paid for them. The materials used certainly feels like quality material, which is all smooth and comfortable, not only to the hands, but to the eyes as well. Here are pictures of the palm side and the knuckle side of the gloves:
Externals Rating:
I would rate the externals to be a 8/10, because nothing is perfect. That made it lose one point, and the other point lost was simply because the "O" that was loose when I received it, although it wasn't a problem for me, I'm sure that someone out there would have broken into a series of seizures for that little issue.
Internals Rating:
Although I could not manage to snap a picture of the inside of these gloves, I can tell you first hand that the gloves are comfortable. The backside of the knuckles feel as though they are foam lined, as well as the puffy portion of the palm area. The vents at the fingertips are also a very welcome change from other gloves.
Performance:
"OMFGBBQ! I KAN HAZ KARBUN FEYEBER H00DZ?!?!?!?"
No...no you may not, but the quality of the carbon fiber on the knuckles feel magnificent. Please keep in mind, that the pictures of these gloves were taken just today, about two or three months and one game after I ordered them. I would have to say, that I am still impressed with its looks. I wore these gloves everyday for about two and a half months, to and from school, since it was winter. Little did I know of course, that the vents really did work, but at least I got the tacti-cool factor from these things. Before I ordered these, I read a few of their reviews. One of the decent reviews complained about the little rubber dots that are present on the fingertips of the middle and index finger. Well, mine held on through my usage, as evidenced by this picture: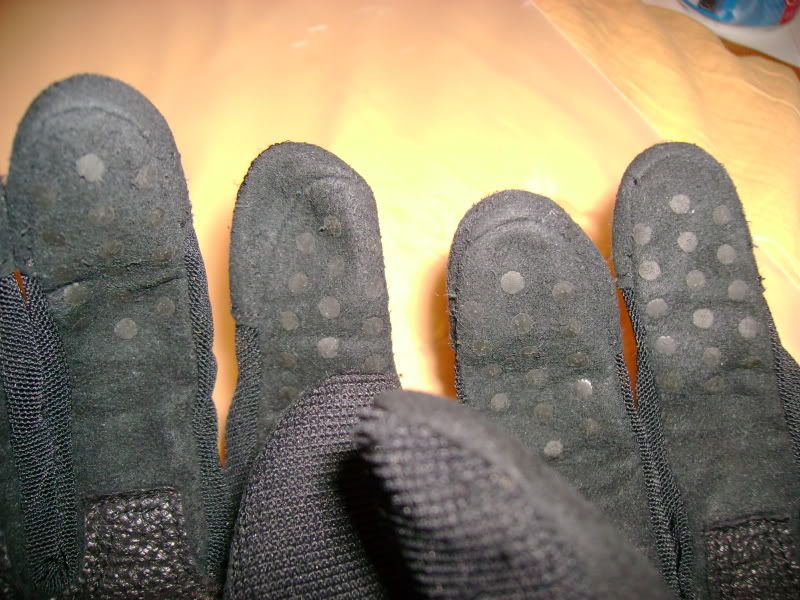 During a game however, my gloves got a little bit of scratching, which went away with minor fixes.
As you may or may not be able to see in the picture, there is a loosened puffy thread. I left it there for the sole purpose of this review, and it will be cut and burned off after the review. That is the result of pointy branches and random twigs poking into the gloves. I didn't feel any of it, but the gloves looked a little scruffed up. I personally think that this could happen to any glove out there, and these gloves are no exception. Another thing worth noting, is that when you put these on, be sure to undo the cuff, or else they will rip. I would say that the cuffs are the weak-point of the gloves. I think that they must have used something a little softer than what Oakley would have used. Sadly, my gloves were so cool that my brother wanted to wear them, and no matter how many warnings I gave him, he kept insisting in shoving his massive hands into the gloves without undoing the cuffs, and of course one of them tore off. After some examination, I went back, and superglued the cuff piece onto the glove. Needless to say, my brother is not going to ever wear my gloves again, although he did ask me to order him a pair in large. Here's a picture of the difference in the two gloves, when the other one rips off, I will do the same for it: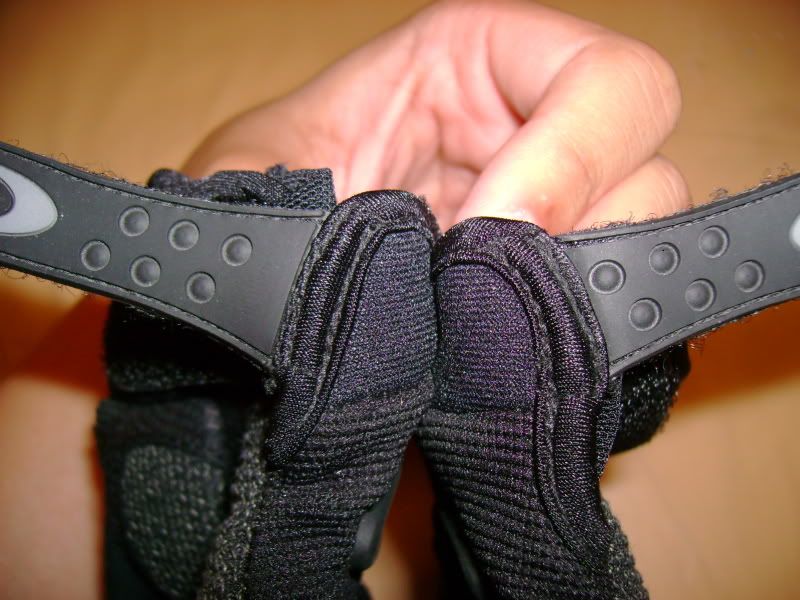 As you will see, the difference is not that noticeable.
Pros & Cons:
Pros-
-cheap
-really good quality
-looks really nice
-The carbon fiber is real, not "carbon fiber look"
-?????????????????????????
-PROFIT?!?!?!?!?!
Cons-
-shipping took a while, about two weeks (You really can not expect much from free shipping)
-The "O" was not completely on my glove
-The cuffs seem to be the weak-spot
-They are not genuine, so if you are a geardo, you must buy the real thing!
Overall Rating:
9/10
VPC Rating (Value Per Cost):
12/10
The Final Word
I would say that these gloves are definitely worth the buy. In fact, these gloves make me wonder how much better the real Oakleys are going to be, so I will definitely go out and buy a genuine pair sometime later down the road, if/when these gloves die on me. For those of you going "but they're not real, they're lame," you have to remember that this is airsoft, you will not have to worry about pricking your hand on a syringe, or anything like that. These gloves definitely impressed me, I was expecting some decent gloves, with a few flaws, but the flaws that I found were all easily fixed with household items. Even now, I still wear them every opportunity that I get. So far, two other people have asked me to order them a pair, and I have gotten several compliments on these gloves. Overall? I am happy with my purchase, ebaybanned's staff emailed me personally and updated me on my order status. I would recommend these gloves to any airsofter, besides, who can refuse carbon fiber? Overall:
Views
5876
Comments
0
Comments