My dream airsoft event...
Humor me in this post. I will take constructive criticism, but downright saying this idea is terrible is uncalled for.
Although the field of choice for this would be Springfield, any field would do. I just like Springfield for it's massive size.
Onto the idea:
PANDA'S PERFECT GAME (catchy, am I right, haters?)
Side 1: US Army.
Accepted Patterns: Multicam or ACU. Nothing else.
They must be armed with US issue weapons (M4's, M16's, SAW's, M14's, etc...). I will not get into specifics about ROF restrictions, amount of ammo allowed to be carried, and the like, simply because I don't care. Mid caps only, I like the realism (SAW's are exception). Gear doesn't matter, but it would be preferred to have a plate carrier or something similar. Head gear must be similar to that used by US forces. I'm going for a current US Army look for this side.
Ideally, you will look something like this:
Side 2: The OpFor
Accepted patterns: None. Must be dressed in civilian/middle eastern clothing. I'm going for an OpFor/Taliban look here.
Accepted guns are pretty much anything used in the middle east. Primarily, this will mean AK variants, but there have been G3's, Dragunov's, WWII Brownings, SMLE's, pistols of all kinds, and just about every other gun they can get their hands on. Please keep the gun
as bare as possible, to replicate what they could realistically get their hands on. Gear is recommended to be a static chest rig or a belt system, similar to what would be used by Iraqis. This doesn't include MOLLE gear.
I'm going for this look: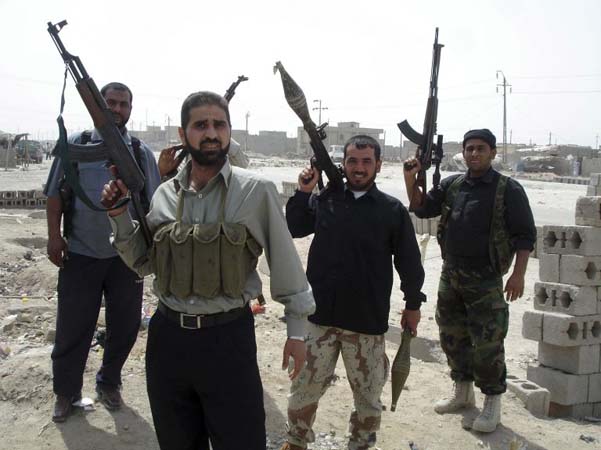 Continuing on...
Scenario: OpFor fighters that have been grouping up for a huge attack have advanced into US territory. The United States reacts by deploying US Army units from their nearby airbase to push the OpFor fighters out. What they were not expecting was an all out war and a fight for survival.
US Goal: Hold as much as possible.
OpFor Goal: Take as much as possible.
Medic rules: both teams employ my proprietary medic system. Everyone gets one piece of bandage. When hit for the first time, they call out and get the bandage tied to their arm. If it again, they must walk back to base, have the CO untie it for them, and wait for the next 5 minute interval to be redeployed.
Eating must be done on the field, no going to the parking lot. you can retreat to the base to eat, but that's up to personal opinion. Reloading must be done at base, no reloading in the field. You must leave all of your reloading materials in the base. If caught reloading by a ref, you will be "killed" and sent to base.
This event can go all day, all day and into the night, go overnight and into the day, or go 48 hours. Not for the faint of heart. This is combat. Shoot to kill, try to survive.
Views
20136
Comments
44
Comments