AEG Long Range Barrel (LRB) Experimentation
Before my time, back in the age of what we now refer to as "classic" airsoft guns, a vastly different method of applying backspin to the BB was used. Sheriff, a now extinct company, invented and patented the Long Range Barrel (LRB) system for many classic airsoft guns. In essence, it was a seemingly straight inner barrel with a curved bore as shown here:
Image courtesy of car15kokusai: (Photobucket profile). Note that the barrel would be oriented so that the thickest portion of the barrel would be at the top.
These curved-bore barrels caused the BB to gently roll along the ceiling of the barrel until exiting out the muzzle. The amount of backspin they were able to apply was static so you could only change the amount of backspin by trying different BBs and FPS levels to find the perfect balance. Though I have never had to deal with any of this, I can only imagine how obnoxious that would be. This person was able to find the right balance to send BBs out to 300' using an Asahi M60E3:
http://www.youtube.com/watch?v=Tm3RHYeXYKQ
Carbon supplied me with a link to where you can buy one of these for yourself if you were interested:
http://www.collectorairsoft.com/afa_60e3_dx_long.html
Note that only 500 pieces were manufactured so they are technically considered collectors' items.
Other systems were either introduced or in place around the time Sheriff came up with their warp LRB. Methods included offset breaches and subtle changes in the bore to give the BB an upward bias. They are detailed
here
. Unfortunately, I cannot comment on the performance or reliability of any of these since I have stuck with TM-style friction-based hopup systems since I got into this sport many years ago until recently within the past year. I recall that a recession in Japan during the '80s caused many airsoft businesses to go out of business, Sheriff being one of them, and Tokyo Marui being the sole survivor of that recession. They chose to develop and use their now signature adjustable bucking-based system that scores of people continue to use to this day instead of dealing with a fixed curved-bore barrel. Other techs before me, most notably Cheese Man of Cheese Man Industries and hunterseeker5 of Hunterseeker Armory, began working on combining the friction-based Tokyo Marui-style hopup with the LRB concept. What resulted were many aftermarket kits you could purchase through Shapeways, a 3D printing company that can print objects in 3D out of various materials. They rely on two wedges to bend the inner barrel within the outer barrel and are available for various bolt-action sniper rifle platforms:
EZ-LRB™ for the L96 V4
EZ-LRB™ for the L96 V5
EZ-LRB™ for the BAR10/VSR
EZ-LRB™ for the CA M24
EZ-LRB™ for the Tanaka M700
EZ-LRB™ for the G&G L96
EZ-LRB™ for Mock Suppressors (1.25"ID)
Feedback from these kits has been generally positive and results in a flatter trajectory and tighter groupings. Madbull barrels are preferred due to their quality and aluminum construction, making them easier to bend and more resilient to aggressive bends, whereas brass and stainless steel barrels tend to permanently deform.
So, great! We know that applying the LRB concept to our modern hopups can result in performance gains. The problem is that the overwhelming majority of us use Tokyo Marui-spec (or vaguely TM-spec) AEGs and all but one of these kits are built for BASRs with spacious outer barrels. hunterseeker5 sought to create an LRB system for AEGs and eventually created this:
Image courtesy of Clandestine Airsoft.
This is a drop-in LRB outer barrel for M4-series AEGs. It's built out of carbon fiber and what appears to be the 3D printed nylon from Shapeways. According to the product listing on Clandestine Airsoft,
"Long Range Barrels, often abbreviated to LRB, use a slight bend in the barrel to force the BB to the top center of the barrel via centrifugal force. This force prevents BBs from floating and bouncing around the top of the barrel where their spin axis is altered slightly and throws each shot off as the hopup effect curves the BB slightly off course. Once the BB is running on the top centerline of the barrel it continues to acquire more backspin from running along the top of the barrel which means less hopup is needed, which is very important with higher mass rounds. While this LRB could be used alone with no hopup it's designed to be used in combination with an advanced hopup system like the R-hop so the balance between the two can be adjusted to yield max accuracy. In addition to adjusting the LRB bend amount and normal hopup amount you can also adjust the angle of spin by adjusting the balance between the two LRB screws. This allows you to get the spin perfectly vertical with no curving to the side. The last level of adjustment is an adjustable barrel support, a new LRB feature being introduced here, which allows the bend point to be moved up and down the barrel to create either an increasing or decreasing radius bend. These are designed only for use with 455mm barrels since 455mm is commonly accepted as the most accurate length."
Mentioned below this is a note:
"Due to the extreme cost, complexity, and labor involved HS5 has decided to discontinue these they are a limited edition."
Even better! So we have a cool new old technology to play with but it relies on plastic mounting and adjustment hardware and it doesn't have a threaded muzzle. On top of that, they cost $220.00 each and there are only ten of them out of the open market, two of which have already been sold. I had been earnestly looking forward to the release of this LRB but I was puzzled at why HS5 opted to have the hardware printed out of nylon instead of modifying an existing aluminum or steel outer barrel. Frankly, it pissed me off. In my typical fashion, I began working on a way to make my own and make it better although without the trolling this time around.
I started by looking at the adjustment mechanism on the HSArmory LRB: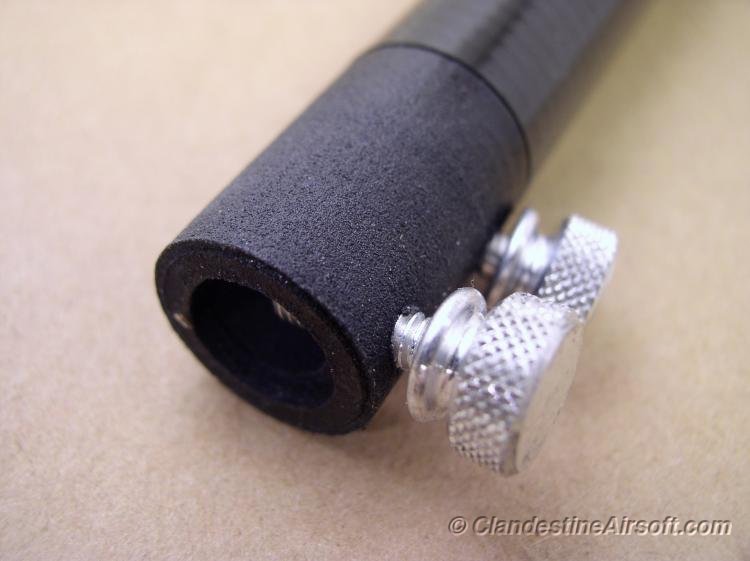 Image courtesy of Clandestine Airsoft.
It uses two offset thumb screws to adjust the arc radius and windage balance. This is obvious enough but if you read further into the product description from Clandestine Airsoft, you find this:
"The last level of adjustment is an adjustable barrel support, a new LRB feature being introduced here, which allows the bend point to be moved up and down the barrel to create either an increasing or decreasing radius bend."
As stated in the manuals for the various EZ-LRB™ manuals and by Cheese Man et al. on various forums, the inner barrel must be secured and presumably centered within the outer barrel somewhere between 2/3 and 1/2 of the way down from the muzzle. That adjustable barrel support is likely what is used to lock the inner barrel in place.
Now that we have the mechanism figured out, we can begin working on improving it.
I decided at the outset of this project that using Shapeways printed parts would be a bad idea. We are dealing with circular and sometimes vaguely circular parts and from personal experience, Shapeways' printers have a difficult time printing circular parts, not to mention they are costly to produce. This is probably a major reason why the HSArmory LRB was deemed too costly and complicated to produce. I have ample access to lathes and limited access to milling machines so the possibilities are practically limitless. I started by selecting some tools to allow me to bore out a scrap Dboys M4 14.5" outer barrel and drill/tap threads into it for adjustment. Following advice given to me from porting inner barrels in the past, I drilled and tapped all the holes into the outer barrel first and ensured they would work with the set screws I planned to use before I went about boring it. By placing the holes 2/3, 1/2, and 1/4 of the way down the barrel from the muzzle, I made a way to lock the barrel in place at 1/3 of the way to the muzzle from the hopup, 1/2 of the way to the muzzle from the hopup, or a combination of the two.
I then bored the outer barrel out from ~9.3mm ID to 10.6mm ID, increasing the clearance between an 8.6mm OD inner barrel and a 10.6mm ID outer barrel from 0.35mm to a full 1mm. This provides the needed headroom for the inner barrel to flex without undermining the structural integrity of the outer barrel and the threads still tapped into it. I then borrowed the concept of installing two offset thumb screws at the muzzle to provide arc radius and windage adjustment from the HSArmory LRB and ended up with this:
Views
46097
Comments
11
Comments